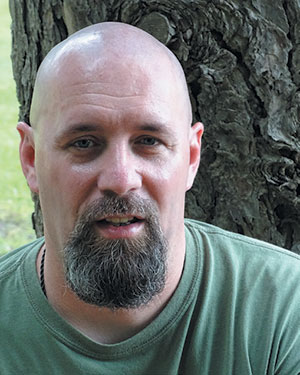 God put me on this earth on Friday, May 11, 1973 to serve a specific purpose according to His will for my life. I was born and raised in Bay City, Michigan. I have three children, Zackary Wilkerson, Breann Ward, and Libby Winchell. I also have two grandsons, Jayden Ward, and Zain WIlkerson.
I knew at a very early age that I was a Christian and that God was a huge part of my life. I have always felt that God had plans for my life to do his work, no matter if it was praying for people, helping others learn whom God is and what He can do if you believe in Him, or writing inspirational words that God gives me.
I was not put on this earth to impress or prove anything to anyone, I am here to honor, love and serve God daily by spreading the Good News to all nations and to make disciples of those who are lost and hopeless. It is my life mission to help those who are lost find God, to reach and teach the unreached about the Gospel of Christ, and to help the unsaved get saved in God's mercy and grace through His Son Jesus Christ.
My definition of a Christian leader is someone who can effectively encourage, inspire, motivate, and influence others to live their life for God in a positive, grateful, and respectful way every day.
I strive to be this type of Christian leader every day of my life. I live my life for God and doing His work is part of my daily goals. In order to truly live my life for God means obeying His every command no matter if it is difficult or unpopular. It is my life's long goal to bring as many people who are lost and hopeless to know Jesus Christ on an intimate level. I want to encourage those who have lost hope, I want to inspire those who have lost sight of God's light, and I want to motivate those who are down and feel as if there is no where to turn. I want to be the reason someone gave their life to Christ, I want to be the reason someone did not give up, and I want to be the reason someone knows that they are never alone. I will continue living for God so that I can be a beacon of light for those who are stuck in the darkness. I will never give up, I will never stop spreading God's word and I will never stop bringing hope to the hopeless because God has never given up on me.
On Friday, February 20th, 2016, God spoke to me and put it on my heart that He needed me to do something for Him. He told me that He needed me to do more of His work, something that would allow me to help more people to read and learn the Word of God and to help others get to know God on a daily basis. He wanted me to create a book of daily devotions that would allow me to share His word with people every single day, morning & night. That is when the Daily Guidance from God Devotional first came into existence. From that day, the devotional came together perfectly as I knew God was orchestrating and facilitating every step of the way for me. He has given me every verse, every word and every prayer to write 365 devotionals, and I had the cover and the setup of the book together in a very short time. In October of 2016, my book became a real part of my life when I took the step to finalize my book and have it published and printed at Westbow Press a division of Zondervan & Thomas Nelson.